Polish Leek Salad Recipe
Today I am making one my favorites salad – Leek Salad. This one is full or nutrients, as leeks are known to be very healthy.
Leeks belong to the same family of foods as garlic and onion, and they contain many of the same beneficial compounds to become health promoting vegetables.
In 1 cup of raw leeks we find: vitamin K, vitamin A, manganese, vitamin C, folate, vitamin, iron, fiber, magnesium, molybdenum, copper, calcium, potassium.
Ingredients:
-3-4 leeks, blanched and cut in rings
-3-4 cooked eggs
-1 cup corn or peas (drained)
-1 cup grated Gouda cheese
-3 tbsp Mayonnaise
-3 tbsp sour cream or natural yogurt
– salt and pepper
Preparation:
Mix all ingredients together, serve cold.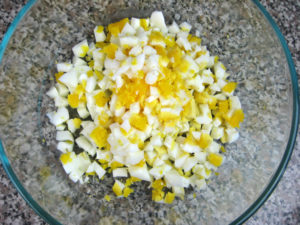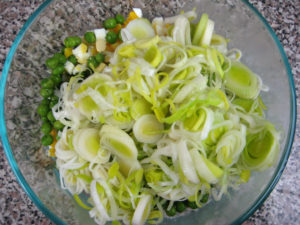 In this video recipe I will show how to make this salad in quick and easy steps: